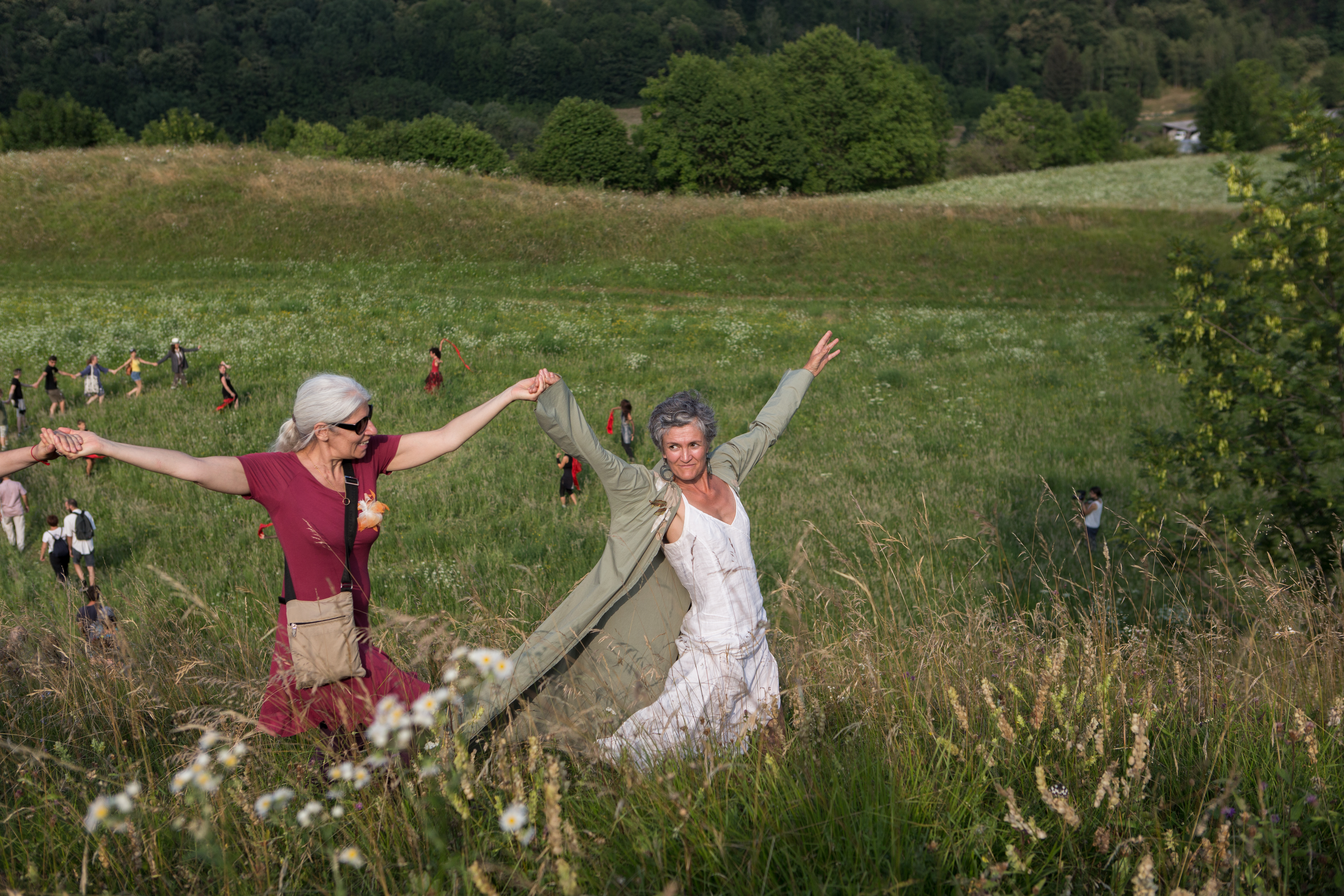 An itinerant festival in the landscape, a universal meeting place inspired by the land, trees, valleys, villages and woods of San Genesio.
Esperidi are art forms which draw their influences from travels, discoveries and wonder. They are an invitation to set off on a journey, to see, hear, feel, imagine. At Esperidi nature, with its immense beauty, becomes at the same time stage and play. This is a special event which creates a union between Art, in its various forms, Nature, spectators and community.
The shows which form the Esperidi festival are performed on over ten stages set up in beautiful buildings and idyllic corners of the natural landscape. We choose different locations every year, accompanying our spectators on a tour of the area. The places where the festival takes place are evocative natural landscapes, the woods of chestnut, mulberry or acacia trees, the wonderful villas, the ancient farmhouses and centuries-old churches of Brianza. Over its fourteen editions the festival has involved ten local councils, has included over three hundred performances, including seventy first performances. Over the course of these events Campsirago has played host to companies from all over Italy as well as forty international companies. From 2005 to the present, Campsirago Residenza has produced thirty-two original shows, including poetry readings, theatre, dance and site-specific performances.
The heart of Il Giardino delle Esperidi is theatre in the landscape, a movement which has its roots in antiquity and represents one of the most innovative currents in contemporary theatre. Each work is adapted and created specifically for the natural landscape in which it is to be performed, becoming a unique and non-repeatable event.

The Festival takes place every year in June and July an allows the public to visit normally closed venues, like Casa Gola, which belonged to the painter Emilio Gola and is still owned by his family, Villa Sommi Picenardi, the San Genesio hermitage, the church of San Michele on Monte Barro, Villa Bertarelli, as well as the open air stages in Palazzo Gambassi.
In 2015 Il Giardino delle Esperidi was awarded the EFFE Label by the European Festivals Association (EFA). This award is given to festivals based on three criteria: artistic commitment, involvement of local communities, and European or global outlook.
Esperidi 2020 XVI edizione
From 27th June to the 5th July Il Giardino delle Esperidi Festival returns in a new guise. We are working on reimagining Il Giardino delle Esperidi – Esperidi on the Moon 2020 and will give it a definite form as soon as possible. The central theme was to be "Nature" and it was to be realised as a performance. This year's Festival should have been a critical and artistic reflection on the broken link with nature and on the impossibility of combining profit with safeguarding the planet. Over 20 titles, many of which were first national performances, were planned. Then the pandemic struck, which made this theme even more valid, made our lives even more fragile, and made us question art's fundamental role in defining a potential positive future. Like astronauts, the public and the artists of Esperidi on the Moon 2020 will be forced to confront themes of appreciation and distance, to change the meaning of the works and to transform the pre-existing notions of what a festival is. This will be a truly original experiment with new kinds of community experience.
How can you recreate a relationship at a distance, be it 1,8m or one thousand kilometres? Will unfettered globalisation's heart of darkness be transformed by art? Will we be able to find new forms for closeness, beauty and sharing?
In this moment the empty squares, roads and paths represent the absence of the social act of meeting in a public space. Our dream, our work, is entirely devoted to the creation of a potential dream-like space, Esperidi on the Moon, and the atmosphere we could be breathing in this world of of meetings, art and vision.
Like in a Star Trek episode, using transporters and space suits.
We are strongly committed to continuing the festival nearly twenty years after it first started, while fully respecting the safety of the public, the artists, technicians and organisers and of the locations which will be our stage.
The site of Il Giardino delle Esperidi Festival