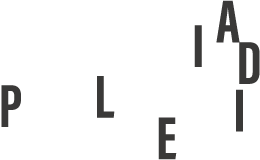 Pleadi is an open and multidisciplinary project which was begun in 2015 by director Michele Losi, sound designer and musician Diego Dioguardi and set and costume designer Stefania Coretti. Pleadi collaborates with artists of various backgrounds to create art for all, especially those who do not usually frequent artistic circles, such as people who have never been to a theatre or have stopped going. For Pleiadi excellence is to be found in the intensity of Art, in the urgency of creating beauty, of sparking reflection, of creating emotional and spiritual involvement and in being aware of the political and cultural needs of the society we live in. The tensions, changes, crises, contradictions, marvels and rarities of the world we live in are the fertile ground from which the collective's artistic creations grow.
The collective is made up of a core group of artists which collaborate among themselves and with other actors, performers, musicians, dancers and visual artists, depending on the requirements of the various projects. This allows the artists of Pleadi to explore less well-trodden creative paths. Pleiadi's love for the classics combined with a tension and curiosity towards the new frontiers of theatre and performing arts has lead the collective to the creation of site-specific art exploring non-traditional performing spaces and their delicate and unexpected equilibria.
Each location calls for different creations and each work changes depending on the influence of the place itself, whether natural or urban, and those who inhabit it. The human body is the centre of this artistic research. Together with sound, images, video and lights, it contributes to the creation of a complete artistic experience in which the spectators become an active part of the performance.
During the exhibition on Frida Khalo, in 2018 Pleadi performed at the MUDEC in Milan with their show Le apparenze ingannano. Performing Frida al Mudec di Milano. This is a site-specific artistic project based around a sensory journey inspired by the works of the great Mexican artist. The work, born of the relation between Frida's works and the genius loci of the exhibition, was a complex multifaceted and multidisciplinary composition which opened new prospective for the spectators, modifying and amplifying the experience of the exhibition.